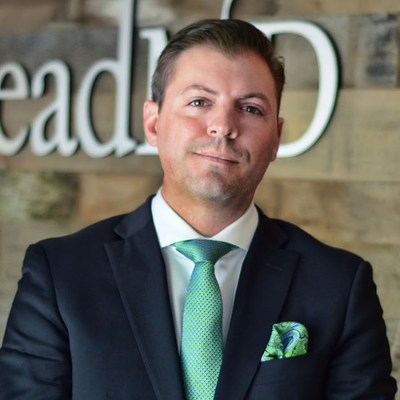 Level 4
Marketing Training & Development Specialist
Love training and educating the next generation of marketing unicorns? Want to work in a unique environment that values the uncommon? LeadMD is seeking an experienced professional with comprehensive and in-depth experience leading, marketing, and administering corporate training and education programs. This position will be responsible for working with various stakeholders to build and maintain the design and delivery of curriculum and training programs and curriculum.
This individual will possess an Innovative bent towards the development and oversight of curriculum creation for a cutting-edge learning management platform and instructor-led programs. The Training & Development Specialist will handle a variety of situations and tasks involving our Experience Accelerator Program, market-facing training programs, and building a solid operations foundation for all learning products. The role will support LeadMD's Packaged Services department by evaluating education needs, identifying gaps, creating training programs, maintaining training tracking systems and developing curriculum for learning products. They will work closely with the Director to develop curriculum, update content, and facilitate training.
Responsibilities:
Curriculum Development
Identify and create curriculum for our learning management system, virtual and instructor-led training programs
Utilize classroom, online learning methods and blended learning where appropriate, translating ideas into a learning forum
Ability to understand a learning outcome and work backward, to form learning paths
Design training measurement plans and conduct course evaluations
Coordinate needs assessment process and address learning opportunities
Work with exceptional instructors to generate high-quality creative courses targeted to a wide range of students
Write quizzes, homework assignments, and exams
Record lessons, explanations, and content on camera and on the tablet
Develop and manage regular training plans for Packaged Services
Create curriculum for varied learning products
Conduct department-wide training needs assessments and identify skills or knowledge gaps that need to be addressed
Select appropriate training methods or activities for Packaged Services integration, implement required methodology
Host train-the-trainer sessions for internal subject matter experts
Communicate effectively on training program by building and maintaining specific curricula knowledge
Collaborate on, analyze, and improve all training programs
Experience Accelerator Program
Assist with development of training for Marketing Experience Accelerator Program
Design, prepare, and manage educational curriculum and related materials
Assess instructional effectiveness and determine the impact of training
Gather feedback from Associates and Director after each program iteration
Use known education principles and stay up-to-date on new training methods and techniques, make recommendations to adapt as needed
Market the Experience Accelerator Program to desired audience
Review resumes and conduct interviews with external candidates to determine fit
Coordinate team interviews and create welcome packets
Qualifications
Top candidates will be well versed in MarTech products including Marketo and Salesforce
Proven experience as a Training Coordinator, Trainer, Training Facilitator or similar role
Hands-on experience coordinating training events in a professional setting
Extensive knowledge of instructional design theory and implementation
Adequate knowledge of learning management systems and web delivery tools
Experience with modern learning solutions and authoring tools such as Adobe Captivate, Presenter Video Express, Articulate Storyline
Proven ability to complete full training cycle (assess needs, plan, develop, coordinate, monitor and evaluate) and implement the full learning cycle (relate, tell, show, do, review and apply)
Advanced organizational, time management, and communication skills
Additional Information
In addition to a competitive salary, LeadMD offers 100% employer paid medical, dental & vision benefits for employees, unlimited PTO, quarterly reward opportunities, and a retirement plan with employer match. Check out our benefits offerings here: http://leadmd.com/benefits
Perks:
Great North Scottsdale Location
Flexible work hours
Unlimited PTO
Fun monthly events
Fully stocked Snacks, Beverages, Coffee & Tea
Weekly educational classes & catered lunch
LeadMD, Inc. is an equal opportunity employer
--
Company Description
LeadMD is a tribe (you read that right) of seasoned marketing and sales experts with a massive bend towards strategy, technology, and results. We believe that "marketing must equal revenue," and through our Revenue Acceleration Methodology, we help organizations cut through the clutter and focus on achieving exceptional results. We are an employee-owned company and that ownership comes with responsibilities not commonly offered to "employees."
We started our journey right around the birth of Marketing Automation in 2009 - it was a great time to be born. Since that time LeadMD has become the Platinum Partner of the leading Marketing Automation Software, Marketo, and a leading partner of platforms such as Engagio, Bizible and Salesforce.com. But, we're not all about tech - we help drive results for our clients by integrating the core elements of a successful revenue engine; strategy, planning, performance, technology, and talent. We embrace the impossible and challenge the status quo in order to accelerate revenue and achieve results.
Basically, if you found the perfect marketer and started cloning them - that's us. LeadMD is like marketer multiplicity, minus the degradation that can come with cloning of course! Anyway, we do what other agencies and consultants dread - we actually work, and we have a blast doing it. Marketing is what we love. So, if you want to walk into your office each day and genuinely pioneer the landscape of marketing - LeadMD might be something to check out.
WHY JOIN THE LEADMD FREIGHT TRAIN:
It's fun to work in a company where people truly believe in what they're doing. At LeadMD, we're committed to bringing passion and customer success to the forefront of marketing services. We work hard, and we're serious about what we do. Our work life balance philosophy is that a huge part of life is work and we love what we do!
WE OPERATE UNDER FIVE CORE VALUES:
We Over Me:

While we value and require individual strengths, our best comes from working together with a single common vision. Teamwork makes the dream work.

We Stand In Your Shoes:

We give the respect we expect to receive. We seek to understand each other's perspective while sharing knowledge, gaining trust and succeeding together.

We Are Better Than Yesterday:

We push each other. The status quo is our competition. 'Good enough' is our enemy. We believe small improvements result in BIG impacts.

We Believe In Transparency:

We feel safe in transparency because facts are blameless. Whether favorable or not, nothing is gained by keeping information to ourselves.

We Have Fun In Everything We Do:

Winning is fun! Learning is fun. Being together is fun. We enjoy the work we do, the problems we solve, and the people we do it with, both clients and co-workers.